Choosing The Right Exit Light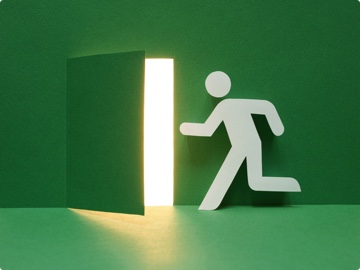 SAVE ENERGY, MONEY AND PREVENT POLLUTION WITH LIGHT-EMITTING DIODE (LED) EXIT LIGHTS FROM MAXSPID
Illuminated Exit Lights are an important and legally required safety feature in your facility. In the case of an emergency such as a fire, their operation is critical in protecting the well being of your congregation's members.
By design, Exit Lights operate 24 hours per day, and can consume large amounts of energy to operate. Many Exit Lights in today's buildings use older, incandescent and fluorescent/compact fluorescent lighting (CFL) technology.
To make matters worse, many older Exit Lights require frequent maintenance due to the short life span of the lamps that light them. For example, many older Exit Lights consume over 350 kilowatt-hours (kWh) and cost $28 each annually to operate.
LED EXIT LIGHT ADVANTAGES
Ultra-Low Energy Usage: ENERGY STAR labeled LED Exit Lights use approximately 44 kWh of electricity annually to operate. Low energy use not only means less pollution but also lower electricity bills as a LED Exit Light usually costs less than $4 annually to operate.
Low Maintenance: To be ENERGY STAR labeled, a LED Exit Light must be guaranteed to last at least 5 years, however, many manufacturers state that their lamps will maintain National Fire Protection Association compliant levels of luminance for 10 to 25 years.
Safety: LED Exit Lights are usually brighter than comparable incandescent or fluorescent signs, and have greater contrast with their background due to the monochromatic nature of the light that LEDs emit.
ADVANCED LIGHTING TECHNOLOGY TO THE RESCUE
The high-energy usage and maintenance of many Exit Lights is completely unnecessary due to advances in lighting technology.
Solid-state light-emitting diodes (LED) are those small colored lights that have been used extensively in consumer electronics for decades.
However recent advances in the technology have allowed Exit Light manufacturers to develop signs that harness the advantages of this technology at competitive costs.
In addition, Exit Lights are easy to install, if you can install a light switch or electrical receptacle you can install an Exit Light.